Yesterday I had the privilege to act as emcee for a wedding in Vancouver. Thank you Jennifer and Gary for the opportunity to contribute to a beautiful wedding -- we met a lot of wonderful people and had a great time. Special thanks to Barbie and Michael Fullerton for their superb hospitality.
The ceremony itself took place on the pool deck patio at the
Four Seasons Hotel Vancouver
, as did the dinner and receptions. The mother of the bride and the staff at the Four Seasons had done a marvelous job in terms of logistics and preparation, and all I had to do was try to not mess up too badly.
Here's a picture of Mr. and Mrs. Rosborough – just after they'd exchanged vows – taken by my wife Martha.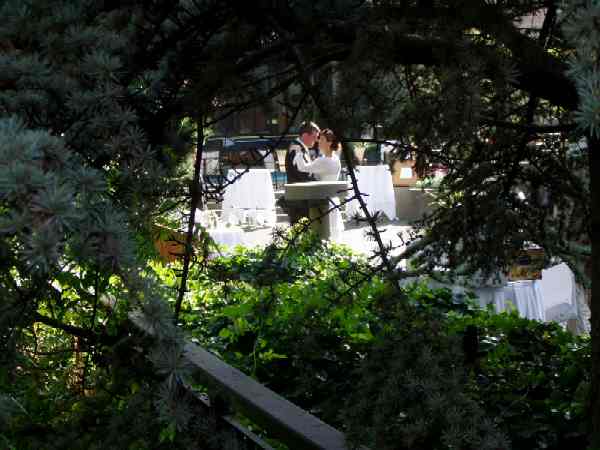 Thanks too to the Concierge staff for the freshly baked dog-biscuits (replete with recipe :) and the imported bottled water they delivered -- on a silver platter no less -- for Sam.